This month's newsletter we have an interview with Federico Cancello. Federico first came to my attention via his Instagram feed which often focused on strength training using our Hampton Fitness dumbbells. I asked Federico to tell us a little bit about his training methods and how he keeps up in the ever-changing fitness industry and keep up with his upscale clientele.
Q: Can you tell us a little bit of how you got started in the fitness industry?
A: I have been an athlete all my life, growing up in Modena, Italy and playing soccer for about 15 years, 2 of which in the Pro Soccer League. My experience as a professional athlete taught me that nothing can possibly stop a highly motivated individual with a strong vision. That's the reason why I decided to relocate to the United States to pursue my undergraduate and graduate education and later combined such knowledge with my background as an athlete. I wanted to become what I call a Motivational Performance Trainer and, through exercise, guide clients to become the best version of themselves. I wanted to show and make people believe that their health and fitness goals ARE achievable; just like my goalkeeper coach in my pro years would motivate me to adopt a can-do attitude and strive to test my limits, regardless of unfavorable circumstances. Over the years, I have worked at several performance centers and gyms all over Los Angeles, from the Westside to the Valley and developed my book of loyal clients. They truly are one of my biggest sources of motivation and personal fulfillment with their drive and incredible results achieved (I take some credit in that!).
Q: Where are your studios located?
A: I have two private training studios available for one-on-one sessions, HIIT group classes, and my signature all-bodyweight, core-strengthening, fat-blasting class StingFIT™. StingFIT™ By Scorpio Liberates™:
StingFIT™ is a full bodyweight, high-intensity, athlete-inspired workout targeting the entire body and incorporating muscle and cardio conditioning along with explosive movements and core strengthening exercises. StingFIT™ is perfect for anyone who wants to improve stamina, agility, and max performance as well as incinerate fat and build lean muscle tone; all while enjoying a fun, energetic, and highly motivating class charged by trance & house beats.
The studios are located in Brentwood at 11611 San Vicente Blvd, Los Angeles, CA 90049. And in West Hollywood at 7624 Santa Monica Blvd, West Hollywood, CA 90046.
Q: What is your favorite type of workout?
A: Bodyweight workouts incorporating explosive movements and core strengthening exercises to improve max performance, stamina, and agility…like StingFIT (see above)! I personally strength train 3 times per week focusing on compound movements, longer rest periods and fewer, quality reps within the 6-8 range of strength training "staples" such as bench press, deadlifts, and weighted squats & pull-ups. I try to visit local chiropractic, stretch, or yoga (and meditation) studios frequently to accelerate recovery and keep my mind, joints and muscles healthy and flexible through stretching, icing, EMS, ultrasound therapy.
Q: What is your go-to equipment to use when training with a client?
A: Dumbbells! They are extremely simple but such a versatile and essential tool in fitness to develop and focus on great form and getting results. Lifting weights makes the body fight against gravity and improves unilateral movement and overall strength. They also work multiple muscles at a time and can be easily integrated into a functional training program for example, which is particularly useful in properly priming the human body to handle real-life activities in a more efficient way. Dumbbells are also great for high-intensity full-body workouts (without taking up too much space)!
Q: How have you seen the fitness trends change over the years?
A: Community, community, community! From HIIT to Fitness Climbing, Rowing, CrossFit, Hot Yoga to a big Boxing comeback recently, people want to belong somewhere. I feel like social media has increased the need for people to be seen taking part in the latest fitness fad and fit in. I actually think that it's a great thing! As long as the public awareness of the health benefits of movement and being physically active is promoted, I don't care what the means of communication is! My only advice as someone who has been in the business for 20+ years is to be a fitness "monogamous" person. Yes, it is fun to switch up your routine and try something new once in a while, but you can't win the marathon if 90% of your training program is performed on a bicycle, or taking a boxing class with your friends, or attending classes all over the place. Consistency and commitment are key. Having a road map and measurable goals and milestones is crucial for those who have a specific fitness goal.
Train (with a fitness professional) strategically for your goal (whether it is being a powerlifter, physique competitor, runner, etc…) and strive to improve a little each day.
Q: How do you keep your clients motivated?
A: I refer to myself as a Motivational Performance Trainer. My energetic personal training style, paired with the sense of purpose and high level of passion for my craft that I exude, motivates clients not only to show up, but also to put in some consistent hard work. The goal for me is to help them conquer their fitness goals, form new long-lasting healthy habits, and therefore make a positive impact in their overall wellness and lives. Train like an athlete at the gym, win like an athlete in life. I am very result-oriented, attentive, and caring to clients' needs and requests. I adopt a personalized approach for each client according to their fitness level, injury, and work schedule as well as current diet and goals. I am available almost 24/7 offering a personal training concierge type of service, providing one-on-one consultations and assessments, personal fitness goals setting and schedule, motivational and inspiring exercise environment, nutritional pointers and journal review, at-home workout assignments, weekly check-ins, and inspiring videos and quotes. I tend to systematically switch up workout routines to deliver muscle shock when needed and avoid getting clients into a plateau to make sure they get the most out of their time with me. I encourage clients to sharing constructive feedback with me and love getting comments like: "My body is getting stronger," "I am looking more muscular than last month."
Q: Being in California, do you train outdoors a lot?
A: I think that exercising outdoors is particularly good to boost morale and break a sweat on a nice California sunny day. Occasionally, I teach "one-off" outdoor boot camp classes with friends and clients and turn it into a fitness Sunday Funday (a healthier alternative to the more traditional LA brunch!). I've also done a few outdoor circuit workouts for charity, where all proceeds were donated to NKLA. Sweating for a good cause! Personally, I love going on outdoor hikes and get some good cardio in, raising that heart rate up, either through sprint intervals, jumping rope, or bringing my battle ropes for a total body fat-incinerating workout.
Q: What's your favorite cheat food?
A: Pizza and Ice Cream! Can I add another one?! Steak and Fries, too. Eating a Fat, High-Protein, High-Carb meal after my weekend workout works wonders for me to raise insulin level & stimulate protein synthesis = Recovery & Muscle growth.
Federico Cancel gives a run-down of his fitness motivation.

Federico lifts our Hampton Gel-Grip Urethane dumbbells.

Federico works on some lunges with a client at his studio.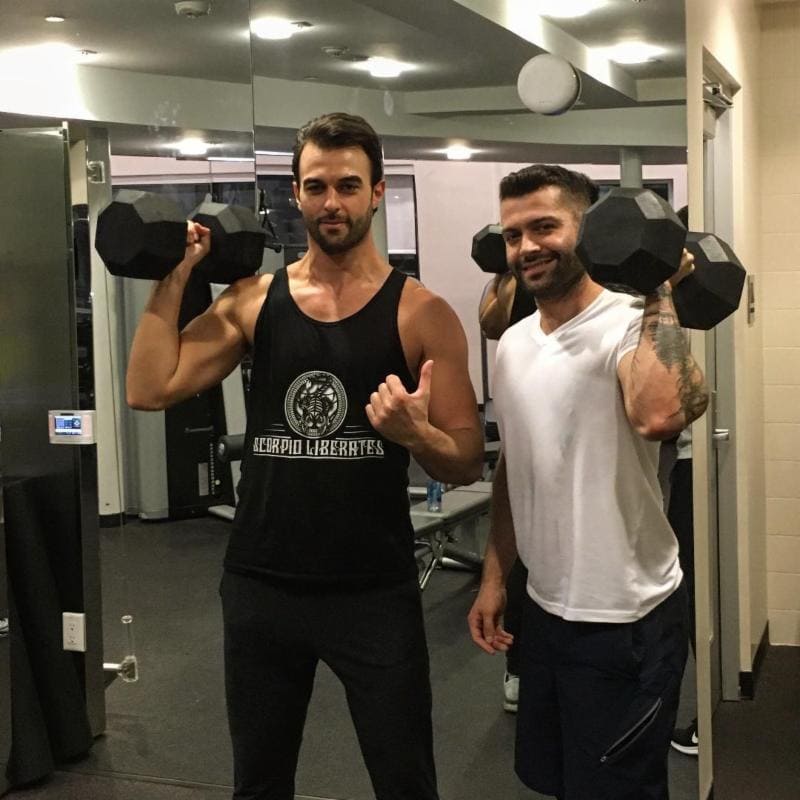 Federico and a client show off their "gains."

Federico fits in a kettlebell workout at his studio.
You can follow Federico vis his social media and website links:
Instagram: scorpioliberates
www.scorpioliberates.com
Facebook: www.facebook.com/scorpioliberates
Outdoor fitness in becoming so popular. Especially in the more temperate locations. As Federico said, working out outdoors is great for morale. Hampton has become more focused on our Outdoor Line of equipment to keep up with this prominent trend in the fitness industry.
Please check out more photos of our Outdoor line of Hampton products. showcased at the Ventura YMCA below.

Hampton Durabell dumbbells on a three-tiered flat rack.

Hampton Olympic Plates have five grips and come in iron, rubber or urethane.

Hampton Gel Bars lined up with our Hampton kettle bells.
When your clients are ready to train outside be ready!
Thank you again for all of your support and continue to follow Hampton Fitness and My Hero Strength for future product updates and events.