Fitness lovers are known for being particular about which equipment they use, whether it be which treadmill they like to walk on every morning or which dumbbell they prefer to lift. People who work out like their routine and don't need ANY reason to disrupt that because someone who just joined their spin class didn't know they prefer the back right stationary bike. These gifts are the perfect way to help the fitness lover in your life build their home gym.

Buying holiday gifts for your favorite gym rat can be difficult, but fortunately, we're here to help. With our list, you'll be able to find that perfect something that becomes your fitness BFF's new must-have. You'll be sure to impress even the pickiest fitness fanatic with an item they won't be able to do without.
Stocking Stuffer Gifts
Hampton Protein Shaker Bottle: $9.00
A Protein Shaker Bottle is the perfect gift for someone watching what they put into their body before or after their workouts! There are no more excuses for getting enough protein. With so many protein drink mixes on the market, fitness junkies blend and carry their "on the go" meals everywhere. Our Hampton Protein Shaker Bottle is inexpensive, lightweight, and superior at mixing and liquid stimulation.
The Hampton Protein Shaker Bottle will mix better than most shaker bottles. Most shaker bottles utilize free-floating mixing elements, such as wire whisk balls, which flow with the liquid inside, making mixing less efficient. The Hampton Protein Shaker Bottle uses a stationary mixer inside the bottle, which moves against the flow of your ingredients. This maximizes the stream of kinetic energy for superior mixing every time.
Core-focused power to help thoroughly mix up the toughest of ingredients fast

Secure-Lock and Tight-sealed lid for "no leak" protection

6 oz Dry Powder Storage

Pill compartment for safe storage of supplements

White – 4.9 x 3.7 x 10.4 inches ; 8.8 ounces

Features the Hampton #RAREBREED hashtag for extra swag!
2. Gym Towel 3 Pack: $9.99
Most people working out are breaking a good sweat. When you release endorphins while pumping iron, the last thing you want is sweat dripping into your eyes or tickling the back of your leg.
A set of gym towels is a great stocking stuffer for people who otherwise wouldn't think to get this for themselves. They are lightweight and easy to tuck into a waistband. 
The official Hampton Gym Towel measures 35.5″ x 14″ and is made from 100% quality soft and plush cotton. This towel is the perfect size for any gym environment, helping to wipe sweat and maintain proper gym hygiene. The Hampton blue and black #RAREBREED hashtag is finely stitched and embroidered on both ends of the towel for a superior vogue flair. The towel stays soft through repeated uses, and it's machine washable and safe to launder with bleach.
3. HeroStrength® Elite Lifting Straps: $25.00
If you have someone who loves lifting heavy weights, we have the perfect gift for you. Lifting straps are used to protect the wrists when lifting.
These straps help prevent injury, which your fitness-minded friend will appreciate. Nobody wants to get injured while doing a workout that they love. Straps help support the wrist, reduce grip fatigue, make strength training harder, and reach true muscle fatigue. 
We make our HeroStrength Lifting Straps from genuine leather flannel for a firm, comfortable grip on the bar. They have cushioned interior wrist pads for added protection on heavier lifts. Their three-layer construction helps maintain the shape of the straps and condition over repeated uses. Our straps are sold in pairs, measuring 21″ inches in length and 1.5″ inches in width. The extra surface area produces a stronger wrap with greater contact across the bar's knurling. It helps reduce grip fatigue on deadlifts, shrugs, rows, and more. Plus, it comes with a ONE-YEAR WARRANTY!
Basic Workout Fitness Gift
HeroStrength® Fit Bands: $9.00 – $72.00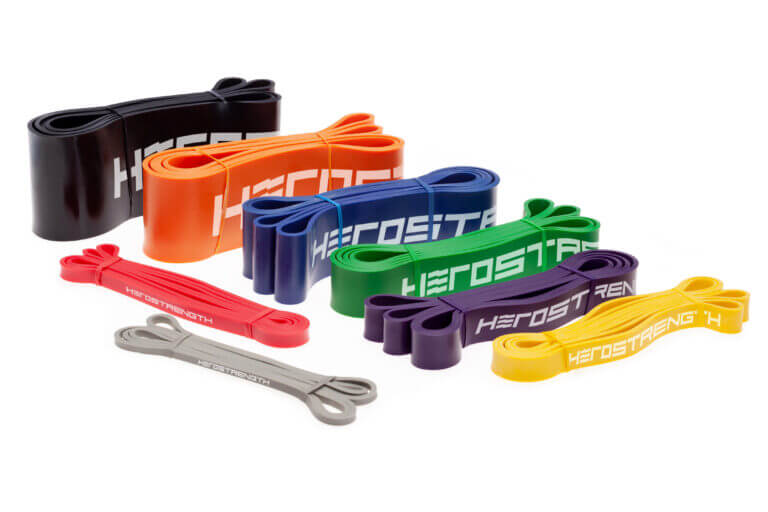 Are you looking for a piece of equipment to add under the Christmas tree for your gym junkie this year? Need something essential and versatile? Look no further! Resistance bands provide workouts perfect for personal training, physical therapy, and home gyms.
Band exercises are popular due to their controlled movements. Resistance training is so prevalent in today's fitness market, and for good reason! This training can spot tone and target muscles in ways a pair of dumbbells cannot always do.
You can easily take the bands with you anywhere. Plus, they're cost-effective and easy to fit into any home gym space. Our HeroStrength Fit Bands come in 8 different colors and sizes. They provide a space-effective workout that you can take on the go. You can even slip them into your suitcase for a travel workout at your hotel.
Our latex material is durable enough to withstand the most advanced strength workout. These bands are especially effective for beginners looking to start their band workout training. You can use them for Pilates, yoga, physical therapy, or rehabilitation!
Let your gym junkie know to check out our Hampton Fitness YouTube for videos on different ways to use resistance bands so that they can use your gift to the max! Two popular options are our Pre-Workout Warmup w/ Resistance Bands and the Deck of Cards Fullbody Workout w/ Jesse Labreck.
2. HeroStrength® Hero-ller: $39.00
Everyone is rolling these days. Whether to warm up the muscles before beginning a workout or ease post-workout fatigue, they are the new must-have in fitness. Our HEROSTRENGTH "HERO-LLER" Foam Roller is the perfect roller to get that post-workout cooldown, as you can hit those trigger points and soothe aching muscles from all different angles.
Your muscles can feel tight after a long run or heavy lifting session. Foam rolling helps focaccia the tissue surrounding your bones, muscles, and joints. Trainers even offer specific foam rolling recovery class workouts dedicated to rolling out muscles.
Try rolling your quads, glutes, and hamstrings, muscles on your back, hips, or shoulders. It can feel like having a massage therapist on hand! The roller mimics pressure applied by a sports therapist's hands: the tubular ridges imitate fingers, the texture acts as the palms of the hand, and high circular indents give a fingertip-like feeling.The 100% EVA Rubber (EXTRA FIRM) textured surface offers a superb feel, allowing the user to apply significant but bearable amounts of pressure on both muscle and tissue for a true pain/pleasure experience. Use the "HERO-LLER" to improve joint mobility and relieve muscles after strenuous training sessions.
3. HeroStrength®  Speed Rope: $19.99
Are you looking for a fun fitness gift your loved one may never have considered trying? Something that they can pull out to use Christmas morning when their gym is closed, or they don't want to face the cold weather? Get them our HeroStrength Speed Rope!
Remember in grade school when you would be in P.E. class, skipping rope with one of those plastic jump ropes that inevitably got caught in your hair? Those ropes are a thing of the past for a reason.
Our HeroStrength Speed Rope has a sleek new look with a steel rope and ultralight aluminum handles with knurling and a laser engraved logo. It's the ideal rope to perfect double-unders due to its roller-bearing handles.
Jump roping has proven to be one of the most effective cardio exercises. In one study, participants who jumped rope for 10 minutes daily showed the same cardiovascular improvements as someone who jogged 30 minutes daily.
They are very affordable, and you can jump rope almost anywhere! Jumping rope is old school, but the look doesn't have to be. It's a great cardio activity that activates your entire body. It improves coordination, builds muscle, and burns calories. It requires you to move multiple body parts, and it's a quick and easy workout for a cardio blast like no other.
Our speed rope is easy to tuck away in a drawer or keep in your car for any last-minute park workouts that you can fit over lunch break.
Need a Home Gym Starter Gift?
1. Durabell Pair of Dumbbells: $31.00 to $914.00
If your family or friend wants to start collecting some items for their home gym, a pair of dumbbells is THE PERFECT starting point. They are standard in fitness for a reason, and strength training is not just for weight trainers!
A pair of light dumbbells can easily be tucked away at home, and there are HUNDREDS of exercises that require dumbbells. But don't just go for any pair of dumbbells. Go with the best in the fitness industry.
Hampton was a trendsetter in the fitness industry and invented the hexagon dumbbell. The Original Dura-Bell® Dumbbell is the Industry's Most "Durable" and Dependable Hex Dumbbell.
Dura-Bell® dumbbells have a patented design that makes them maintenance-free. Our urethane-encased heads minimize damage to floors and equipment. The ergonomic handle is hardened chrome and secured to the heads with our patented process, ensuring that they'll never come loose. Dura-Bell® is so reliable that we guarantee its structural integrity with a 5 Year Commercial Warranty. So, if anything goes wrong with this gift, your loved one can call us to have it replaced.
The industry's only patented URETHANE HEX dumbbell is also available in full urethane encasing for protection during outdoor use and storage of weights and racks. Sizes begin at 2.5 LBS and go up to 125 LBS.
To get your friend started with their new gift, check out our Fullbody Workout w/ Durabells!
2. HeroStrength® Focus Mat: $69.00
If your workout king or queen is looking for the perfect mat for their floor exercises, the Hero Focus Mat is the best on the market.
Whether they're doing sit-ups or a downward-facing dog, our mat has enough cushion to create a surface for the best possible floor workout. Our Hero Focus mat is the perfect take-anywhere mat for stretching and floor exercises.  It measures 72″ long by 27″ wide with a laser-engraved polyurethane top and rubber base. And, at a full 5mm thick, it provides a durable and secure cushion that won't slip for your strength training mat exercises. This mat comes in a medium shade of blue, laser engraved with our Hero Strength logo, and includes a black over-the-shoulder carrying case that brings a classic feel to your home gym space. Just roll it up and go!
3. HeroStrength® Action Bag: $69.00- $109.00
A Hero Strength Action bag may be new to you, but chances are the fitness lover you are shopping for will know precisely how to use it in their strength training workout. The HeroStrength® "Action" Bag is a user-friendly strength training tool that delivers cardio and metabolic results.
It's ideal for Compound Lifts and Strength Training, such as lunges, squats, rows, and presses. Basic isolation and compound movement combinations will provide improved joint stability & more range of motion.
Use the HeroStrength® "Action" Bag to squat, lunge, bend, push, and pull for results involving multiple muscle groups. Using the action bag requires a whole-body coordinated effort, with the quadriceps, hamstrings, and glutes bearing the brunt of the load.
Start using this equipment to practice simple versions, leading to more complex methods, such as the "Clean!"
The HeroStrength® "Action" Bag offers a fun design that provides a vast range of functional training exercises for home gyms. This versatile and effective athletic training product enables athletes and personal trainers to open their creative side, designing and implementing workout circuits that deliver guaranteed cardiovascular training effects! The bag comes in compact sizing of 22.8″ x 8.6″ x 8.6″ inches.
The "Action" bag includes five total handles: two top, two side, and an end/bottom handle. Here are some tips for use:
Grab the top two handles perpendicular to the bag and start doing rows!
The two handles on the other side are parallel to the bag and perfect for deadlifts, cleans, overhead presses, & back squats!
Grab the fifth handle on the end to swing the bag as a pendulum or toss it over each shoulder, alternating!
Add plyometric training with this bag for quick-release movement exercises… rinse & repeat!

Get more tips by watching Good Mornings w/ HeroStrength Action Bag.
Shop Home Gym Upgrades for the Ultimate Athlete
1. HeroStrength® Slam Ball: $16.00- $89.00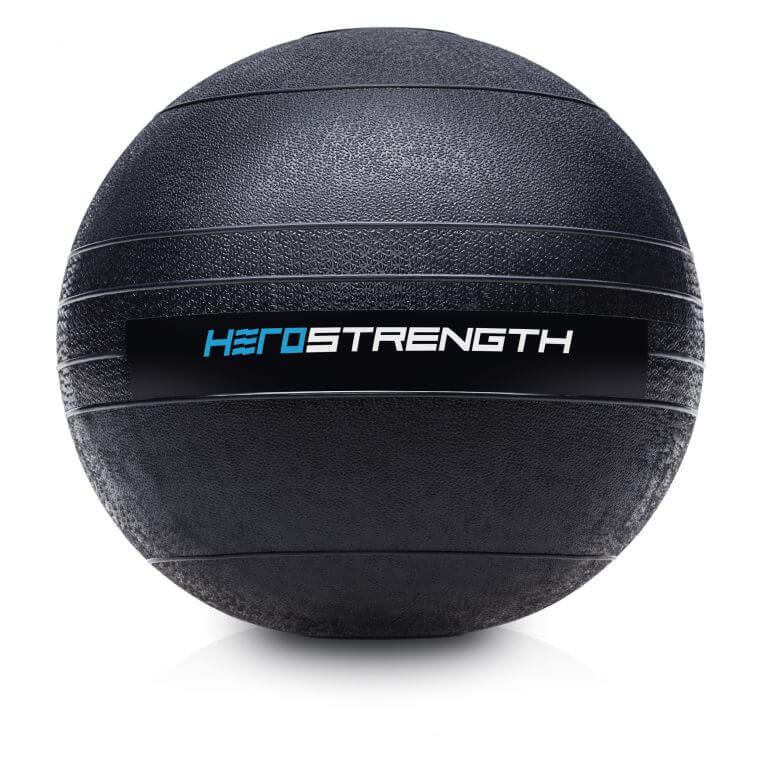 You've probably seen various workout balls at gyms and have wondered which one is for what workout. Grabbing a slam ball is a great way to start a strength training ball workout.
Based on ancient drawings and writings, the 'medicine ball' originated 2,000 years ago in ancient Greece. Spartan warriors would train with animal bladders stuffed with sand. Since then, medicine balls have been used in one form or another to build health, strength, and resistance training.
Whether you're working your triceps, abdomen, or shoulders, HeroStrength Slam Ball has the right weighted ball for your exercise needs to increase explosive power for athletes in all sports. The HeroStrength Slam Ball develops power, strength, and speed.
The HeroStrength Slam Ball has a tough rubber outer shell filled with sand, iron granules, and adjustable air. It's able to withstand all your powerful slams while increasing your heartbeat and burning many calories.
It's available in a wide selection of weights and a bold blue/black outer coloring that is resilient to your most brutal slams, and it comes with a ONE-YEAR WARRANTY so that you can gift it with confidence!
2. HeroStrength® Conquer Collars: $69.00
Barbell collars are an excellent gift for someone who is into lifting weights. They act as a stopper to your weight plates and load across your barbell sleeve, ensuring the weights don't slide or jostle during exercise. They provide an extra sense of security when a loved one is lifting on heavy days and are a gift that will show that you're paying attention when they tell you about their latest gains!
Our HeroStrength Conquer Collars are a fantastic gift for the weight lifter in your life. They feature a Power-Lock Design and a Laser-Engraved Logo. We constructed the body of lightweight yet sturdy anodized aluminum, with carbon steel hardware and a plastic high-impact ABS knob. The sturdy design offers unmatched strength and durability.
Pinched fingers or broken parts are a thing of the past. The impact-resistant T-handle securely engages an aluminum bar-cam for maximum clamping force.
3. HeroStrength® Jump Box: $399.00
A plyometric jump box is a fun gift to spring for your athlete looking to spring into a workout!
These are a fun and versatile workout tool for a home gym. Box jumps are a great exercise, but you can also use these boxes for box dips, pushups, and stepovers.
Is your athlete looking to take their workout to the next level? The HeroStrength® "Jump" Box will help increase stamina by repeating explosive exercises and height-challenging movements.
With the clever idea of a 3-in-1 plyometric box, this space-saving box is the perfect gift to introduce beginners to plyometrics, preventing any risk of injury with its soft, high-density foam and anti-slip surface.
The user simply flips the box to create three configurations without being exposed to harm or shin injury. It's made to absorb the impact of the exercises on the members' joints. This baby won't tip over… Weighing in at approximately 88 LBS makes this versatile box extremely stable!
---
If you're looking for great fitness gifts for your friend or family who loves a good workout, there will surely be a gift on the list that will impress them. With all the different price points, you can also find some favorites within your spending budget! Maybe you've even discovered a gift option that's perfect for you…there's no shame in a self-gift every now and then! Athletes know quality; our Hampton Fitness products have no shortage of that.